The importance of visiting the dentist for pregnant women, and for children
Granted the dentist may not be the first person you'd think of consulting during pregnancy. However, at Aura Dental in North London, we are keen to stress the importance of regular dental health checks during pregnancy – as well as for baby when they arrive.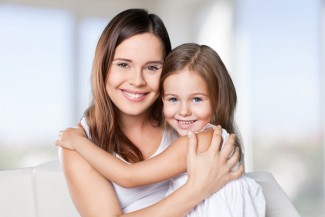 Pregnancy is a very exciting time, but it does sometimes throw up some health issues, including dental health concerns. The levels of the hormone progesterone can be up to ten times higher than normal during pregnancy, which affects the body's response to toxins, including plaque. Pregnancy gingivitis (gum disease) is a common complaint, and by visiting your dentist as soon as you notice anything unusual, you can effectively treat and manage the condition, so that you can get back to enjoying being pregnant.
Symptoms include gums that bleed when you brush your teeth, or which may be red and swollen.
We have also seen pregnant women at our North London clinic who have developed pregnancy granuloma – red nodules that commonly appear on the upper gums. These are not dangerous but can be uncomfortable, and your dentist can help you manage them.
If you experience bad morning sickness, enamel erosion and dry mouth are common side-effects. Eroded enamel can lead to increased tooth sensitivity. Again, by coming in to visit a dentist at our North London dental practice as soon as you start to experience such symptoms, we will be able to help you manage the condition.
Remember that every pregnancy is different, so even if you experienced no problems in the past, you should still be on the look-out for warning signs.
North London children's dentistry
Once baby arrives, it is a good idea to bring them into the dental practice from an early age. Dental check-ups from a young age have been shown to help prevent fear of the dentist in later life, and can also help to prevent problems before they start.
The team at our North London practice are experienced in working with children. Your child's dentist may recommend using preventative treatments such as fluoride varnish and fissure sealants, and can also spot orthodontic problems early.