Dental implants offer a diverse range of options for those who need to replace missing teeth. Had one tooth knocked out in a rugby scrum? Check. Fell face first into a curb and lost a few teeth in a row? Yes, can do. Tooth decay got the better of you and you need a whole new arch? Got it covered.
And as well as these treatments, implants can also replace a whole set of missing teeth in St John's Wood. Dental implants at Aura Dental can stabilise a new or existing set of dentures, offering you back the full chewing power of natural teeth.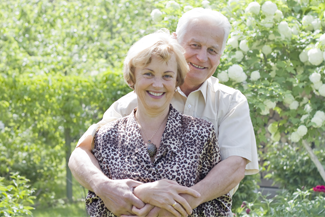 The reason the implants become so secure is because they are made of titanium. This miraculous metal is biocompatible, which means that the body views it as natural tissue. It grows blood vessels and bone around the implant, making it a functioning part of the body.
How does it work?
We offer a service called Teeth in a Day. This replaces a whole arch or set of teeth in a single visit. First, any remaining teeth will be removed. Then, 4-6 implants will be placed in each arch.
If you need your jawbone shoring up to secure the dental implants in St John's Wood, our implant surgeon may also carry out bone augmentation work at this point.
Then a temporary bridge is fitted to the implants. This is because the implants need 3-6 months to heal and fully integrate with the jawbone. During this healing period you need to be careful with your temporary teeth and not place them under too much strain, especially in the first few weeks following surgery.
What are the benefits?
Because implants replace the root as well as the crown of the tooth, they provide as much chewing power as natural teeth.
Once your dental implants in St John's Wood are fully secure, your permanent dentures can be fitted. You can then once again enjoy any food you like, without fear of your teeth getting stuck or falling out. This puts crispy apples, chewy steaks and crunchy nuts back on the menu. Good for your nutritional health as well as your taste buds.