Category: Blog
Mouth cancer can be labelled as abnormal cell growth within the mouth. Mouth cancer can affect any area of the mouth including jaws, lips, tongue, gums, tonsils and salivary glands. All of these tissues within the mouth are layered by soft cells called squamous cells. It's these cells that come to be malevolent during mouth cancer issues. Thus, mouth cancer can also be called squamous cell carcinoma.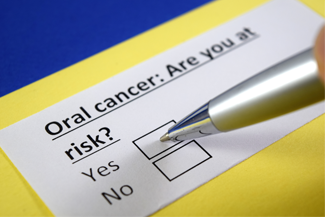 Squamous carcinoma is the cancer commonly known to affect the oral cavity. Mouth cancer, which often called oral cancer, begins in the tissues and further affects the mouth, tongue, and lips. Additionally, it can go as far as affecting the roof of the mouth, the floor of the mouth, gums, or the cheek lining.
Mouth cancers look a lot like each other when observed with a microscope. The cells become malevolent and tend to spread quickly in the mouth and other parts of the body.
CAUSES OF MOUTH CANCER
There are many conditions, habits and lifestyle choices that can cause mouth cancer. Some examples are smoking, chewing tobacco, consuming alcohol, and exposure to dangerous UV radiation. There are also other causes of mouth cancer which includes Kaposi's sarcoma related with AIDS, Candida infection within the mouth, and lack of nutrition i.e. diets without the presence of vitamin A, C and E, selenium iron and zinc.
The common causes of mouth cancers include:
Excessive intake of alcohol drinks increases the possibility of mouth cancer.
Smoking and Use of Tobacco:
Approximately 75% of mouth cancer patients are tobacco users (including the alleged 'smokeless' tobacco) and smokers in general.
Combination of Alcohol and Smoking:
Drinking and smoking together keeps you open and vulnerable to mouth cancer.
Studies have proved that consuming foods low in vegetables and fruits may expose you to the dangers of developing mouth cancer. Hence, consuming foods with high vegetables and fruits may guide you against so many types of cancer, especially mouth cancer.
Exposure to heat and sunlight for a long period of time is also a contributing factor in skin and mouth cancers.
THE SYMPTOMS – HOW DO I KNOW IF I HAVE MOUTH CANCER?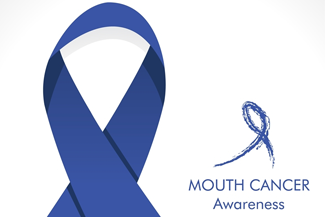 A specialist can identify mouth cancer by a variety of symptoms. However, it is necessary that you go for a thorough dental check-up as soon as you notice any unusual changes, so as to ascertain if what you're experiencing is mouth cancer.
Aura Dental is a professional oral health clinic where you can have your regular oral check-ups and examinations. For additional benefits, we include mouth cancer screenings as part of our standard general check-ups. Thus, if you need a thorough dental examination, Aura Dental is the ideal place for you.
Mouth cancer symptoms are often painless and looks a lot like other, non-hazardous oral symptoms. Our Dentists are capable of identifying the changes in your mouth which you may not notice.
The following are some signs that should prompt a dental visit immediately:
Sores that won't heal
Change of colour, mostly red and white with patches
Coarse spots in the mouth that won't heal
Bleeding from the mouth
Difficulty wearing dentures
Loose teeth
Difficulty or pain moving jaw
Lump-like gatherings
Difficulty in talking, swallowing or chewing
Numbness around the mouth
Earache
While gum diseases, infections, and many other mouth problems can show similar reactions, it remains a top priority to visit a dentist immediately if you notice any irregular changes within the mouth region.
If any unusual changes are seen in the mouth region, we will refer you to a qualified specialist to conduct a diagnostic test of the affected area. In mouth cancer cases, identifying the problem quick and early can increase your chances of getting cured, this is why we recommend that you visit Aura Dental for regular dental examinations.
Mouth cancer can be caused by many factors. All forms of tobacco use can hugely result to mouth cancer, including the supposed 'smokeless' tobacco. In addition, those who indulge in binge drinking of alcohol have more chances of getting mouth cancer than the non-alcoholic drinkers. Also, long exposure to heat or sunlight is also associated with mouth cancer. A little above 25% of mouth cancer patients are not alcoholic drinkers and have never smoked.
Our dentists can help identify anything suspicious and refer you to a specialist to conduct a biopsy in a hospital setting to approve or deny the occurrence of the disease. Once it is verified that there are cancerous cells the doctor will advise the best course of treatment.
Simply because you notice a sore within the mouth region doesn't mean you have mouth cancer. However, visiting Aura Dental regularly to examine the mouth will ensure that anything suspicious is caught in time, potentially preventing any new development of the disease. By thoroughly examining the mouth, neck, lips, gums and throat at least once every month can help you detect anything that may seem suspicious at the early stages. Quick and early interference is vital in order to increase the chance of successful treatment.
If you start to notice symptoms of mouth cancer after the examination with your dentist, quickly raise an alarm. Also, be ready to act in case any sores start to develop within the mouth region. If you notice these symptoms and they don't show signs of healing in two weeks, book an appointment as soon as you're able. Irregular sores that are non-cancerous will be severe in the early stages, but will heal gradually. They ought to be completely healed within a week or two.
At times mouth cancer sores appear very little and difficult to notice. Along with regular self-examinations, booking an appointment with our dentists for regular check-ups at least once or twice yearly is very important. This will guarantee the quick and early discovery of new, unusual developments that may come up.
Along with sores in the mouth, there are many other signs to look out for in cases of oral cancer that requires immediate examination. These signs include white and red spots within the mouth, bleeding from the mouth, swelling around the mouth region or a lump-like gathering around the neck or jaw may indicate the presence of cancer. Also, if you find it hard moving the mouth region, or you feel pain while speaking, swallowing or chewing, these are serious signs of mouth cancer. In case you notice any of these signs, you should quickly visit our clinic for an immediate check-up.
IS MOUTH CANCER CURABLE?
Just like every other cancer, mouth cancer can be completely cured at the early stages. As cancer moves from one part of the body to another, a complete recovery can be very difficult in the later stages. If the disease is spotted at the early stage, the possibilities of a total cure are high, and you also have a better chance of recovery if the affected area is small. However, many people tend to notice this disease at the later stage, because they don't see their doctor or dentist regularly for examination, thereby making it difficult to obtain a complete cure.
Mouth cancer hardly ever causes pain at the initial stages. Irregular cell growth normally appears as smooth patches. A cancer sore appears like an ulcer, frequently with a gloom in the middle. The centre of the cancer sore might be white, yellow, or grey, having red edges.
MOUTH CANCER PROGNOSIS
Approximately 34,000 people are identified with mouth cancer every year. Sadly, over 65% of people with the disease won't notice the problem until the later stages when it is difficult to be cured. Lack of public awareness of the likelihood for mouth cancer is among the reasons people fail to notice the symptoms early. Many people also fail to notice it early because they do not
visit a dentist for regular mouth cancer examination.
MOUTH CANCER TREATMENT
If you reside in London count yourself lucky for having the opportunity to access quality dental care services.
Aura dental is a patient-friendly, private dental clinic that provides professional dental services, including mouth cancer awareness and mouth cancer screenings as part of our standard general check-ups.
At Aura Dental, we keep an eye on your oral health and regular examinations allow us to see any new unusual developments in the mouth. If we notice any irregularities, we will refer you to a specialist centre in the hospital to perform biopsies of the affected area. The tests that are essential to determine the cancer stage are X-ray, endoscopy, CT scan and MRI scan.
We aim to increase awareness in the possibility of mouth cancer cases, that is why we have included a cancer screen as part of our general check-ups.
For oral dental care which includes oral surgery, paediatric dentistry, restorative dentistry, and orthodontics – we got you covered!
Book an examination with us today!

Email: www.auradentallondon.com
Address: Aura Centre, Charlbert Street, St John's Wood, London NW8 7BT, UK
Phone: 0207 722 0040