£
St. John's Wood
020 7722 0040
Aura Dental

A beautiful practice crafted with attention to every detail. A team dedicated to excellence

- Chris -
Mission Statement
To provide unwavering clinical excellence in a calm, professional and friendly atmosphere.
Core Values
Aura Dental's core values are the fundamental beliefs that all team members hold within the clinic.
These values not only drive us forward in providing the best care for our patients but ensures a dedicated team caring about the whole patient, not just your teeth.
Integrity:
Integrity is at the top of our core values as we believe that truth and trust should be upheld at all times, in every decision we make in clinic. Being ethical, honest and trustworthy in all we do ensures that our patients are treated as our family would be, with care and respect.
Genuine Care:
We understand that coming to the dentist can be extremely traumatic for some, therefore our team is empathetic and respects our patients, each other and the community that we serve, ensuring the best possible care at all times.
Education:
Our education core value is twofold at Aura Dental.
Our clinical education enables us to consistently challenge ourselves to the next level of clinical excellence.
Patient education, this starts from the very first baby tooth, educating on brushing techniques and preventative care at home. If treatment is advised, we educate our patients so informed decisions can be made together.
Quality of Service:
Aura Dental are committed to providing the highest degree of quality in every interaction and treatment that we provide. We work with award winning Dental Labs, offer continuous staff development and technological advancements in clinic to bring you the best quality service.
No Pressure:
Our patients oral care is extremely important to us and helping our patients achieve optimum dental health is our driving force. However, some big decisions take thinking time. Aura strive to give you all the information you need and when you are ready, we are here for you.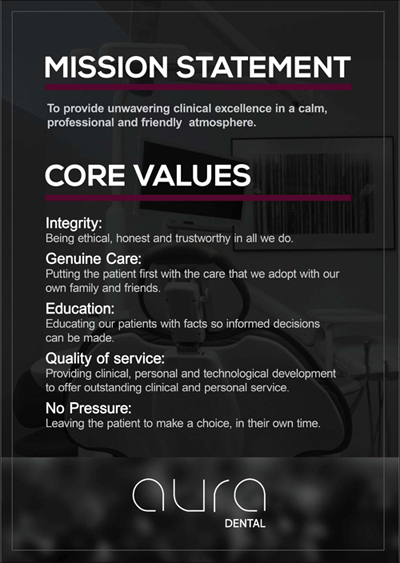 ICO Registration No. ZA147278