Teeth Whitening
Did you know that people with shiny white teeth are more likely to go on dates or even get jobs at interviews? No you didn't, right?  Neither did I. Mostly because there's nothing like that. So if you are one of those people thinking the sun won't need to shine because your teeth are so bright, here's a chance to quit the daydream and learn a few facts.
Let's start from the basics. It's all in the name. Teeth whitening simply means making your teeth as white as they should naturally be or whiter, usually by removing long standing stains or by other means which would probably make this definition too long.
Now you may be thinking, "Shouldn't a toothbrush do the job?" Well, correct me if I'm wrong but keeping anything white always requires special attention, whether it's a bathtub, a shirt, your sneakers or your teeth. Of course, the only difference is people actually spend more than 5 years studying teeth, so it's safe to assume they're more delicate. You may want to avoid experimenting with them.
So while anyone can whiten their teeth, the process will vary based on a number of factors –from how badly discoloured the teeth are, how soon you want to see results or how long you want the results to last to simply postponing teeth whitening due to mouth related diseases or pregnancy. In effect, the whole process should be tailored to suit you personally including deciding if and when you can do it at home.
Meanwhile, the more effective whitening products contain higher quantities of the active agent (hydrogen peroxide) which can be very dangerous and are only legally allowed to be used or prescribed by dentists as the case demands. Even your insurance company is sure to have a few paragraphs waiting to deny you if you somehow get into trouble by using those products without supervision. Naturally, access to such products means that whitening done by dentists produces better results than the ones done at home.
This next part may break a few hearts but certain foods must be avoided during the period of teeth whitening. Some of them include strawberry, black tea or soda, black coffee, snacks with powdered cheese, tomato or red sauce, blueberries, chocolate, red wine,and others you can confirm from your dentist but yes, no pain no gain. You can still however have ice cream or yoghurt, rice, bread, milk, even sushi. But if you really must have a drink that causes discoloration, you must use a straw without shaking the drink around in your mouth. Although that is the whole point, isn't it?
Professionally, there are two new major teeth whitening treatments – Zoom teeth whitening and Enlighten teeth whitening.
Zoom actually fits its description. It is much faster and you would be done in less than 2 hours. Perfect for a quick fix but it only makes your teeth about 6 shades lighter and lasts roughly about a year.
Enlighten on the other hand gives a shade B1 which is up to 15 times whiter than the current shade and can last up to 4 years, especially with good oral hygiene practices. Although, as you may have guessed, this is no quick fix. It takes about 3 weeks to complete the process.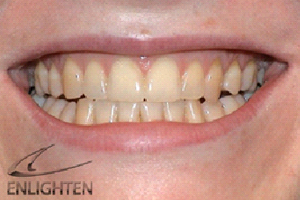 BEFORE ENLIGHTEN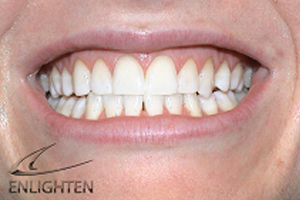 AFTER ENLIGHTEN
As with every new treatment, you would be right to guess that there are side effects. Provided it was done professionally, your teeth may just be very sensitive to hot or cold water or have a slight ache but it should all resolve on its own. If you did, however, assume you bagged a dental degree from a YouTube crash course, well, keep your friends close and your dentist closer.