Is Invisalign right for me?
Many adults, possibly like you, are looking for options to straighten their teeth, because for many reasons they missed the opportunity when they were younger, and now they find that the image-driven world we live in makes them want to improve their smile. We at Aura Dental understand this and have an elegant solution that will suit your lifestyle no matter where you find yourself. Invisalign in St John's Wood complements an active lifestyle and is also suitable for those in the competitive corporate world. Whatever situation you find yourself in, you can treat your orthodontic problem with an invisible solution.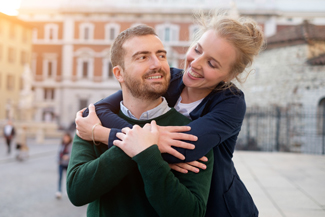 The history of the treatment
The Invisalign system had been used and improved upon since 1997. It is the most advanced clear aligner system in the world and has helped millions of people to find their best smile and move forward with their lives. The company is constantly creating and developing new technologies to improve upon their own ingenuity and we recommend Invisalign to anyone seeking a solution to fix their crooked teeth with discretion and speed.
What is Invisalign and how does it work?
This is a clear removable brace that gently applies force to the teeth to shift them into the correct position, this revolutionary orthodontic treatment is embraced by young adults all over the world, because of its almost completely invisible nature. They are a great option for getting your teeth straightened without anyone noticing.
After scanning your teeth with 3D imaging technology, a computer will be able to predict how your teeth will move over time. From these predictions clear aligners will be made to fit over your teeth and will be changed every 1-2 weeks in the comfort of your own home, as your teeth change their positions. You will need to check in with your dentist every 6-8 weeks to ensure that the Invisalign in St John's Wood is still on track and to keep an eye on the position of your teeth.
Custom-made aligners are completely removable for eating and brushing your teeth, they fit into your lifestyle effortlessly and after a couple of days, you will barely even notice they are there. This treatment does not last as long as traditional braces so your smile could be straight in under a year, which not only suits adults with busy lifestyles. Invisalign has other systems which can also be used by teens and children too, making it an option for a family to have matching smiles.
Testimonies
Patients, having received treatment with Invisalign in St. John's Wood, have praised this option for fixing crooked teeth as an excellent choice for young professionals working closely with others.These patients said that no one ever noticed the fact that they were wearing an aligner, but other people only mentioned how clean and shiny their teeth looked. It was also noted that the patients themselves barely noticed that their teeth were being adjusted and forgot that the aligner was in their mouths. Eating and cleaning was very easy, as the aligner could be removed, meaning they could enjoy all sorts of foods as they would normally.