How discreet braces can quickly straighten your teeth
Think orthodontics and you may well think of traditional braces, with metal train-track style wires and brackets. At Aura Dental in North London we appreciate that while these traditional systems are effective at straightening teeth, they are not always compatible with a busy adult lifestyle. That's why we are pleased to offer treatment with discreet orthodontics.
What are discreet orthodontics?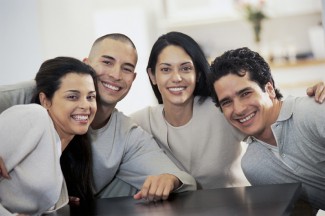 There have been huge advances in orthodontic technology in recent years, and one of the areas that has seen the most development is discreet orthodontics. This comprises braces that use tooth-coloured wires and clear brackets, along with various clear plastic aligners. The best option for you will depend on the type and amount of orthodontic correction needed, and your dentist will advise you on the most suitable treatment options.
From simple crowding to more complex issues, the friendly and experienced team of dentists at Aura Dental in North London have successfully straightened the teeth of hundreds of patients to give them the smiles they have always wanted.
Here are the options for discreet orthodontic treatment at our North London practice with braces or aligners. . .
Six Month Smiles
Six Month Smiles discreet braces use tooth-coloured wires and clear brackets to correct a range of alignment issues with your front teeth. Six months is the average treatment period and your dentist will advise you how long your treatment should take.
Inman Aligner
The Inman Aligner is a clear, removable aligner that quickly changes the position of the front teeth. Typical treatment times range between six and 18 weeks, depending on how much correction is needed. Again, your dentist will advise you of your predicted treatment time at the outset of treatment.
Clear aligners
Clear aligners, also known as invisible/removable braces, can correct a wide range of orthodontic problems. You can take them out to eat, clean and to brush your teeth.