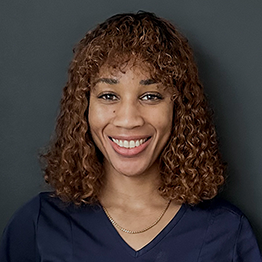 Hygienist
GDC No. 299927
Stacianne, is a registered dental hygienist, who received her BSc in Dental Hygiene (2013) and MSc in Public Health with a specialisation in Environmental Health (2018) from the University of Technology in Jamaica. She has been practising clinically for 9 years, providing outstanding and exemplary oral health care services within her home country before moving to the UK. During her training years, Stacianne was heavily involved in outreach and fundraising efforts through her roles as President of the Dental Hygienist Association of Jamaica.
Stacianne started teaching in 2015 as a clinical educator in the BSc Dental Hygiene programme while living in Jamaica and served as a committee member on the America Dental Examination Board. She is very passionate about dental hygiene practice as she believes that dental hygienist and therapists are the main preventative specialists in the any oral health care team.
Stacianne's mantra is a "passion for prevention" her main interest is in oral health care knowledge and practices, particularly dental care during pregnancy. Currently she is a lecturer at the University of Suffolk for the dental hygiene and therapy course.
Stacianne's long-term goal is to change and shape the public health sector views on oral health care globally, especially within the antenatal patients. While at the University of Suffolk she aims to make significant scholarly contributions to the field of Dental Public Health.
Outside of her professional environment, she loves fitness, travelling and spending time with family and friends.
Back to The Aura Team