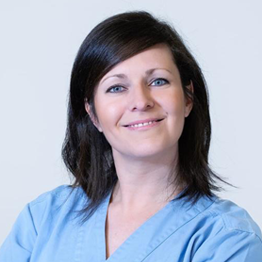 Dentist
GDC No. 250451
Dr Ilaria qualified with a first-class degree from Padua University School of Medicine and dentistry in 2002.
For 12 years she worked as a senior partner at the busy three generations family practice, and to date, she has more than 17 years of experience in private dentistry.
She completed an MSc course at the cranio maxillo-facial department in implant rehabilitation of severe maxillary bones' atrophies in this, as well as numerous other postgraduate courses in various disciplines of dentistry.
She had the opportunity to join the ENT team alongside surgical treatments of the face and neck.
She is very well known between her patients for her gentle approach and the capacity to put even the nervous ones at ease.
She has attended various courses covering all the aspects of dentistry from aesthetic fillings to prosthodontics, implant related treatments and the periodontal field.
She has a particular attention to follow the GDC guidelines for all the CPD courses.
In 2014 she moved to London with her family and is excited to begin a new exciting work challenge.
Languages:
English and Italian
Special Interest:
Implant surgeries and all types of Aesthetic Dentistry.

Back to The Aura Team